-The first burlesque workshop in the Netherlands - since 2008-



Choice out of several special Burlesque Workshop locations in Amsterdam.
The price for the Burlesque Workshop is 35- Euro Per person (minimum 8 persons or 280.-) Discounts for groups more than 12.
including Cava, fingerfood, lots of chocolate and use of 20 large feathered fans, hats, gloves, lace umbrellas etcetera.
More info or bookings: Mail MadameRisquee@Gmail.com - or call (0031) (0)6 207 500 27 (office hours)



Club Akhnaton, centre Amsterdam.

Smack dab in the middle of Amsterdam Centre, between central Station and Dam Square is a club that's very reacheable by foot, tram, bus and bike! (for cars there is a -pricey- parking garage next door). First you will be welcomed in the bar bar to drink some Prosecco! Then after (the secret doors) There's the night club including stage which adds greatly to the workshop. You'll be totally private. Outside there is also terrace where you can meet, drink or smoke!

Frankie's
Between the arches (build in 1878) is Frankie's: an atmospheric dance school space that we use for the Burlesque Workshop. The dance floor is 1,5 m below street level and there are hardly any pedestrians. But on request we can blind the windows too. It is easy reachable by foot, bus, tram or car. It's near Central station; walking, or 2 minutes with bus. There is also a parking garage opposite the venue. For groups of 7- 30 persons.



| | | |
| --- | --- | --- |
| Fun shopping / bar street Haarlemmerdijk is only 100 meters away! | You can have a real nice walk from Dam Square, central station or many hotels via the most famous shopping street Kalverstraat that changes name into the more fun/alternative street: Haarlemmerdijk. Or via the canals of the world heritage site. | Within walking distance of many locations you might go next. |

Casablanca Mini theatre!


Above a circus themed fine restaurant, in the historic oldest part of Amsterdam (real near Central Station) is a hidden mini theatre. The most special place for a private Burlesque workshop.

However there applies a surcharge for this exclusive location: 7,50 PP: so 42,50 PP in total.
For groups of 7-11 ladies.
(less participants is possible but have to pay for 7)

A whole page about this location HERE

Monumental building from 1929 near Nieuwmarkt.
The Burlesque workshop will be
in the theatre space on the 3rd floor (elevator, but the stairs/windows are a must see!) of this 1929 building which is an official monument and used to be a school. It is in the middle of the centre but in a quiet street just 200 meters from the famous Waag on the Nieuwmarkt!
For groups larger than 10


These gals from Ireland had a wonderful time with coach Nina!


The famous Waag on Nieuwmarkt is
only 200 meters from our location.

We accept these cards and cash at the workshop



Also bank or Paypal transfer upfront.
Ask for our pricelist concerning exact prices for several locations and discounts!
More info or bookings: Mail MadameRisquee@Gmail.com
or call (Netherlands) 0620750027 (office hours)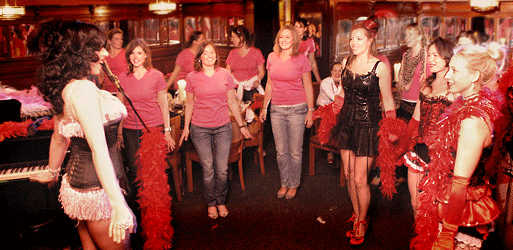 Burlesque Workshop is produced by:








Underneath a YouTube Channel with clips from Madame Risquée productions:
Meer informatie of boekingen: Mail info@MadameRisquee.com
text, phots etc © Madame Risquée